Useful information on TUV and ABE Certificates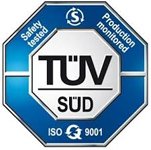 TÜV : In Germany, Belgium and Luxembourg, the TUV certificate is compulsory for any modification of the car component parts, it plays the role of the MOT. Because the TUV is so demanding, it has set an example that is valued all over the world and represents a token of quality and resistance.
ABE : The ABE is a different certification that has an equivalent value to the TUV.
If you are looking for a TUV or ABE certification for your new wheels, please refer to the list below: