The basics about Runflat tyres
The runflat tyre allows to drive with an underinflated or punctured tyre. They are reinforced tyres with self-supporting sidewalls allowing you to drive for 50 miles in safety (at a limited speed : 50MPH) even despite pressure leakage. their structure relies on self-supporting sidewalls that can bear a high load even despite pressure leakage.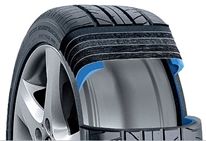 The assets of runflat tyres :
Good handling of the vehicle, even in case of a puncture
Spare wheel is not compulsory
No need to replace the punctured tyre immediately
On what type of vehicle can I fit a runflat tyre ?
This information is given by the car manufacturer.. You have to find out whether runflat tyres are approved for your car. In case they are not, yo are not allowed to use runflat tyres.
Is it possible to switch from runflat to standard tyres ?
Yes, even though it is authorized , experts don't recommend such a change. This is because the wheels of a vehicle approved for runflats are specific. In case of extreme driving conditions there is a risk for the tyre to come off the wheel.
If you still wish to switch from runflats to standard tyres, you should :
Enquire from your car dealer if the difference in tyre rigidity might alter the electronic control systems (ABS, etc...).
Get equipped with a spare wheel and a puncture spray.
Please beware
All vehicles fitted with runflat tyres must have a pressure control reader on the dashboard to inform the driver of potential pressure loss.
Main runflat designations:
ZP = for Michelin's runflats
SSR = for Continental's runflats
ROF = for Dunlop's runflats and Goodyear's runflats
EMT = for Dunlop's runflats and Goodyear's runflats
Run Flat = for Pirelli's runflats
RFT = for Bridgestone's runflats
BSR = for Bridgestone's runflats

What is a PAX tyre
In addition to the Zero Pressure system, Michelin also developed the PAX system The PAX tyre features ultra-resistant self-supporting sidewalls made with a reinforced polymer It is a separate version of runflat tyres.