The different types: symmetrical, asymmetrical et directional
Not all tyres share the same design. The tread pattern of a tyre determine its performance
There are three main types of tread patterns :
Symmetrical
Asymmetrical
Directional
Please find below a few explanations to help you select the tye best adapted to your driving style :
Symmetrical

Usage
Designed for short commutes for small passenger cars.
Strenghts
High resistance
Improved tread life
Economical
Excellent road handling
Comfortable driving
Weaknesses
Average steering responsiveness
Weak resistance to aquaplaning
Special features
There is no compulsory mounting order for this tyre.
Available in small sizes (from 13" to 15")
Asymmetrical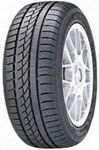 Usage
Designed for powerful sedans and sports cars
Strengths
Quiet driving
High resistance to aquaplaning
High stability
Weaknesses
Flexible sidewalls ( less resistance to shocks)
More expensive
Shorter longevity
Special features
« outside » and « inside » markings are engraved on the sidewall, they indicate the correct mounting order.
Available in sizes 15" to 19".
Directional

Usage
Designed for sports cars
Strengths
Outstanding steering responsiveness
Good road handling on wet and snow
High resistance to aquaplaning risks
Good grip on wet
Predictable handling at high speeds
Weaknesses
Not economical
Weaker resistance to shocks ( flexible sidewalls)
Worn out faster
Special features
Mounting : Directional, small white arrows indicate on what axle each tyre has to be placed
Front to rear ( and rear to front) tyre rotation only