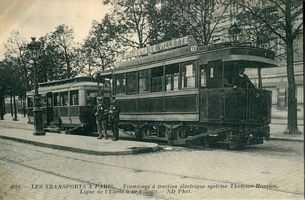 Tramlining :
Perhaps you've been recently surprized by micro vibrations in your driving wheel or had the impression the steering became irresponsive when driving on roads in bad repair.
This behaviour is called tramlining, and can be explained by the fact that tyres tend to follow the cracks on the roads.
Fortunately, this usually happens for a few seconds at a time, unless you are compelled to drive on poorly maintained roads. .
The role of tyres
The technical specificities of a tyre determine the behaviour of a vehicle on the road. In this case, the tendency for " tramlining"
What are the elements that make tramlining even worse?:
High performance tyres are alltogether more likely to "tramline" than tyres with deep tread patterns. It is explained by the fact that sports tyres have more contact with the road than a passenger tyre. As a consequence, they are more likely to be influenced by the road
The wider the tread, the better the grip, and the bigger the tramlining
The wheelbase corresponds to the distance between the wheels on the same axle. The bigger the wheelbase, the more sensitive to tramlining increases.
Worn out suspension parts ( bearing, etc) can also increase tramlining since it creates play. Merely replacing the used parts can significantly reduce the tramlining effect..
The wheel camber angle, can also increase tramlining when negative since it forces the car to take more aggressive turns..
Runflat tyres also contribute to tramlining due to rigid sidewalls that transmit the faults of the road on to the steering and suspension